Fundraising is a major part of our charity.  We are always in need of fundraising opportunities and welcome all community support. If you would to get involved or think of fundraising opportunities such as coffee morning, sponsored walk or run, raffle etc, please contact us we will be more than happy to help. All funds raised support the charity and our vision of making a difference for people living in our local community who are lonely or isolated.
We are looking for volunteers to join our fundraising team and to inspire new supporters to raise money, while maintaining and developing relationships with existing supporters.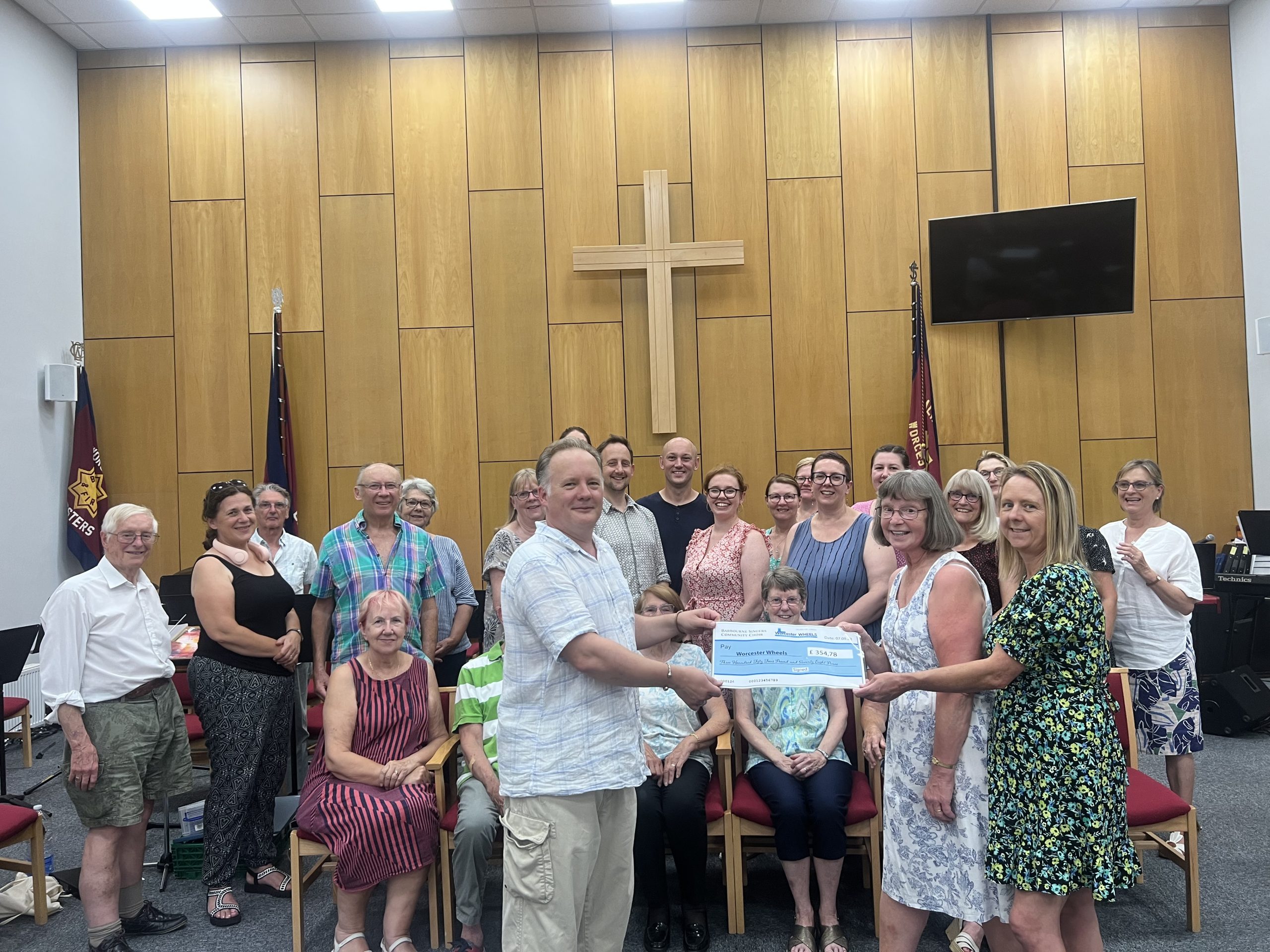 Barbourne Singers Community Choir
We are truly grateful to the Barbourne Singers Community Choir for raising a wonderful £354.78 at the their recent concert. The funds raised will be a huge difference to the charity.
Thank you!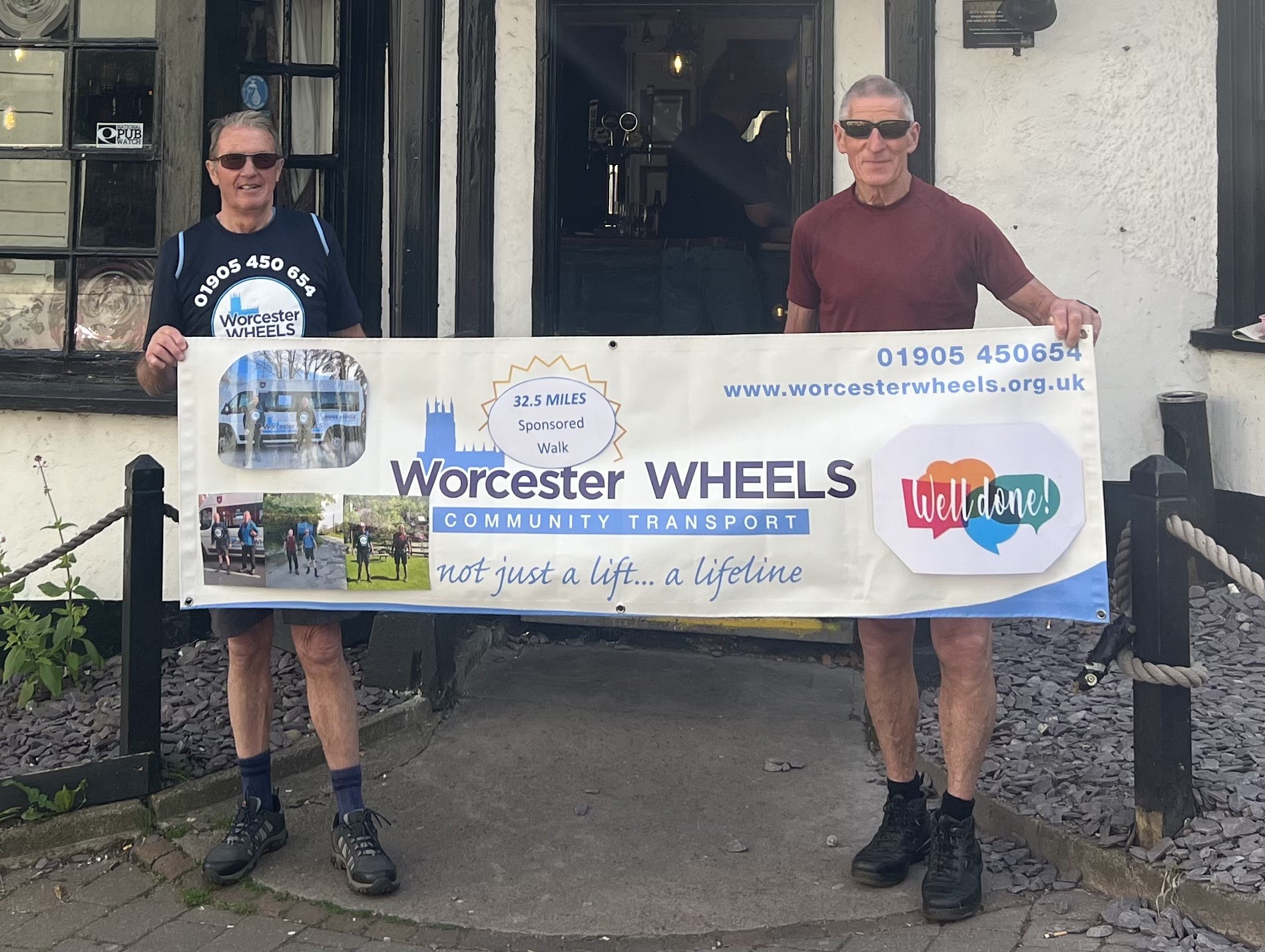 32.5 Mile Walk Bewdley – Malvern
We are delighted to announce Brian Cornes
sponsored walk raised an incredible £1,184. The day was super hot but it didn't slow Brian and Bill down. We really appreciate you choosing Worcester Wheels and for all your hard work in completing the walk.
Well done Brian and Bill, incredible achievement, 32.5 miles in 10.5 hours. They started at 5.45 am at Bewdley bridge, finished at The Unicorn, West Malvern at 4.45 pm only stopping twice for two 15 minutes breaks in
22 Degree heat, it certainly did not slow them down.
We are so proud of you both, well done
It is not to late to sponsor Brian through his just giving page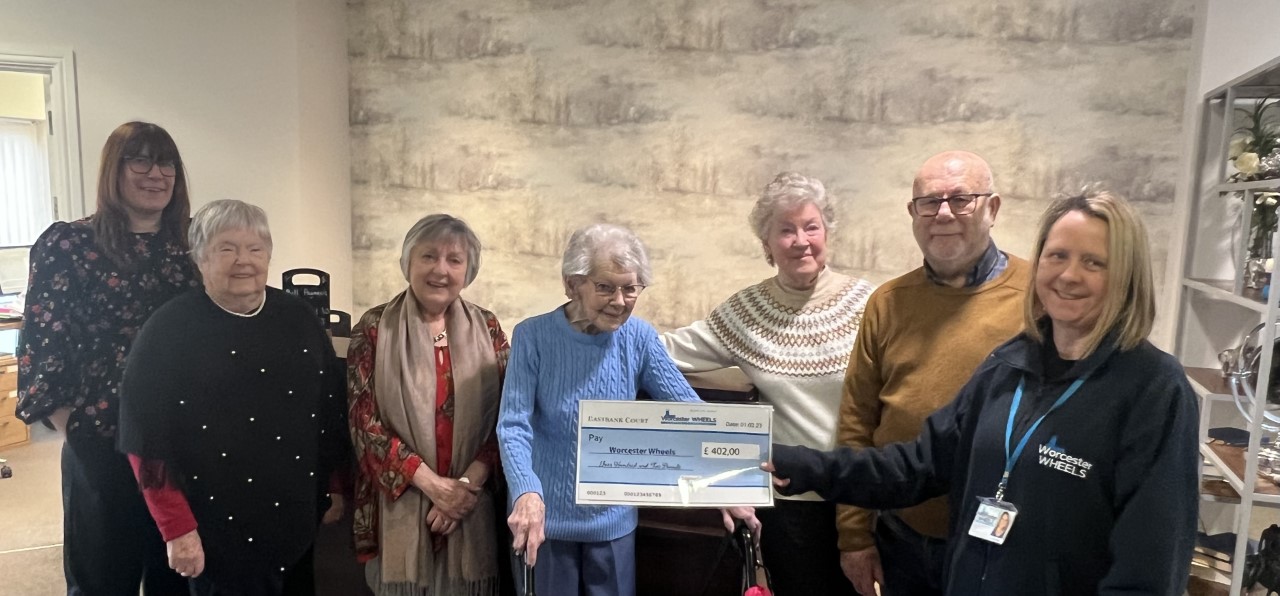 The residents of Eastbank Court raised an incredible £402  for our charity from a recent table top raffle.  Thank you to everyone at Eastbank Court.
"I would be left looking at my four walls if it was not for your service"
"I don't know what I would do without them, very reliable, my life line"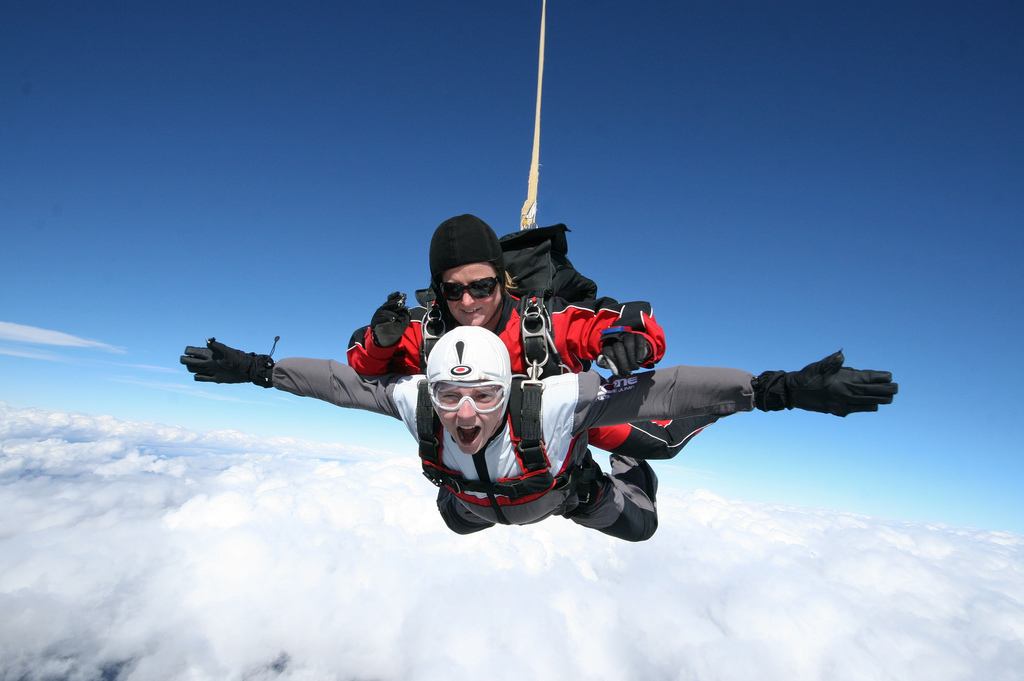 Laura Morgan completed a sky dive on 6th August 2022 on behalf of Worcester Wheels.
Laura strugges with heights but travelled £15,000 ft in the air,  jumping out of a plane as part of a fundraising challenge raising £1025 for our charity.
"I would be left looking at my four walls if it was not for your service"
"I don't know what I would do without them, very reliable, my life line"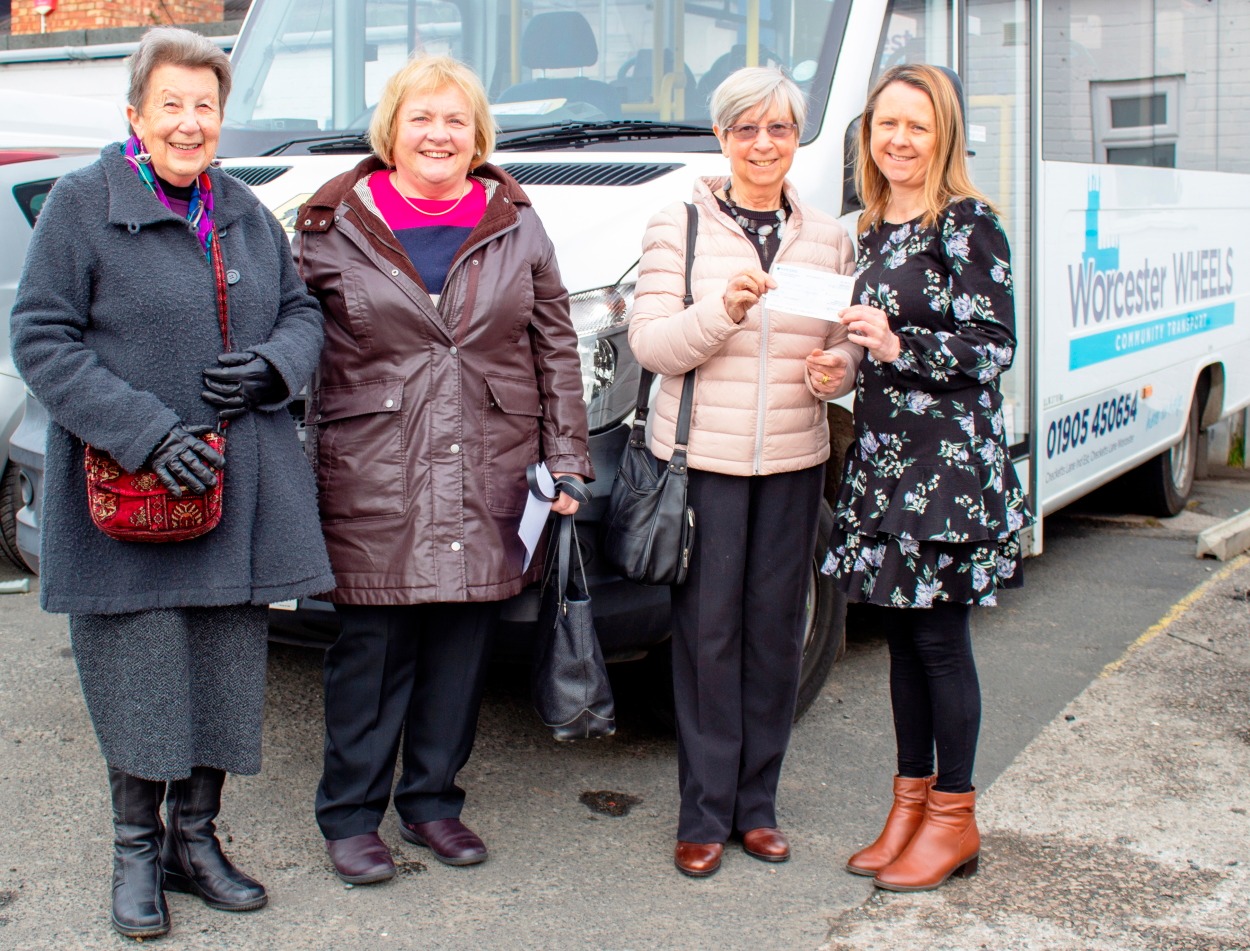 Fernhil Heath Womens Institute
The kind ladies of Fernhil Heath Womens Institute have raised a fanastic £260 for our Charity.  We are truely grateful for their kindness.  Thank you from everyone at Worcester Wheels
Worcester Wheels rely on grants and community funding to help subsidise the cost of our services.  We are extremely grateful for the continous support and financial help particularly throughout the recent years.  
Worcester Wheels are not just a lift but a lifeline for many of our clients, enabling them to access places of interest and need.
Loneliness is terrible, we all need to be needed, we all need companionship, we all need regular contact with others, we all need to build new friendships  We hope our events and sessions help combat this and bring people in our community together.

The Everson Charitable Trust
Eveson Charitable Trust have awarded us a grant to assist with the day to day operations of our charity.  We are in the process of introducing new services within our charity and this grant has supported us to achieve this.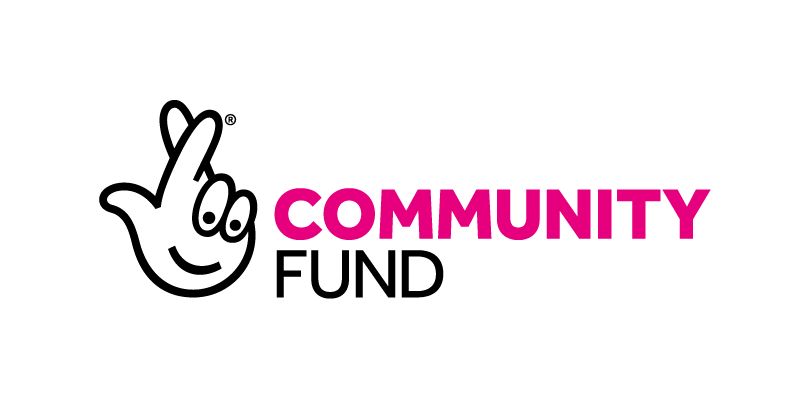 Community Lottery Fund
Community Lottery have awarded us funds to support our events and hub activities to help keep our local community connected. We are extremely grateful and hope the events funded through the lottery make a difference.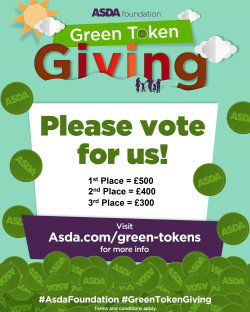 Asda Foundation Green Token Scheme
 Worcester Wheels successfully won the Asda Foundation Green Token Scheme in October 2022,  raising £500 for our charity. Thank you to everyone who voted Worcester wheels
Donate
We are heavily reliant on grants and donations to meet our costs and minimize our fares.
Help us to continue to deliver an affordable service.